RUNNER UP IN World tango Championship 2004 in Tango Salon Style and placed third in 2004 at the Metropolitan Championship representing Sunderland Club in Buenos Aires.
Choreographers and dancers representing Argentina in the Olympics Games Beijing 2008
Appeared as a principal dancers in the music video directed by the "controversial" multi award director Mel Gibson
Invited to perform exclusively for the Kings of Jordan and Argentinian President.
Tango Maya Fest Directors, international tango FETSIVAL in Cancun MEX, 6-10 NOV 2014
Their tour performing and teaching Tango Brigante method include Canada, Mexico, South and Central America, Europe, Asia and USA
MORE ABOUT LUCIANO AND ALEJANDRA:
Born in Buenos Aires, Argentina, Luciano Brigante's first introduction to the art of dancing the tango began when he studied with Aldo and Chimbela Diácno, milongueros of Villa Urquiza (the Argentine neighborhood with a strong traditional style), who provided the broad-ranging basic elements that were the foundation for his future tango career. Building on that experience, Luciano began an intense learning process, during which the great master, Jorge Dispari, gave him the keys that helped him discover the best way to dance tango on stage and in the milonga.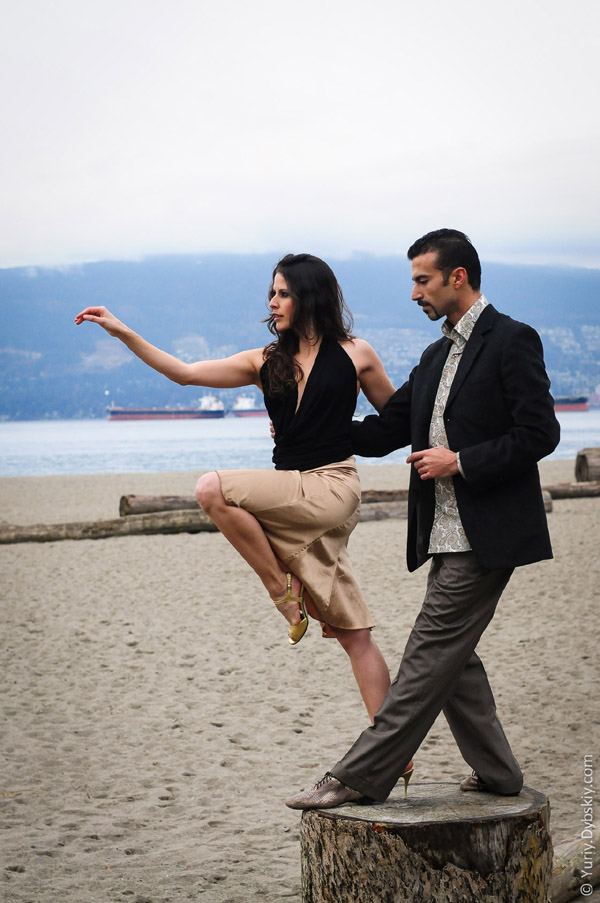 Luciano continued his formal training with the excellent dancers and teachers Vanina Bilous, Carlos and Rosa Perez, and Cuauhtemoc Najera, the former director of the national dance company in Mexico. He also focused his energies on stage tango (tango scenario) with the teacher, Doris Petroni, a former dancer at the Teatro Colon in Buenos Aires and choreographer of Teatro General San Martín, to learn even more about theatrical and choreographic expression. In addition, his main mentors have been the "teachers of teachers", Jorge Dispari and "Turkish" Maria del Carmen, José Lampazo, Turco Jose, Mauricio Castro, Pablo Veron, Gustavo Naveira, whose comprehensive approach and analytical system of instruction influenced his current interpretative technique and methods of teaching.
He has presented in prestigious Tango houses in his hometown such as La Cumparsita, Casablanca and Michelangelo. In September 2000 he traveled to Mexico when he was invited to inaugurate the Night of Tango Restaurant Bariloche in the city of Guadalajara. In the fall of 2001 he was again invited to present a tango seminar at the 1st International Tango Festival in Cancun. He remained in Mexico to continue teaching and performing.
Alejandra Orozco has combined her stage experience in Tango Escenario and Tango Fantasia to fashion a traditionally dramatic exhibition style. She and Luciano implement distinctive methods of instruction, enriched by their knowledge in the field of communication and psychology, to revolutionize the way we see, feel, hear and experience the Argentine tango.

Luciano and Alejandra exemplify the Villa Urquiza style of tango with their elegance, smoothness and precision in walking. Their elegant dancing reflects great accuracy, tradition, strength and dynamism. They have many accomplishments to their credit, including being invited to dance tango exclusively for the kings of Jordan and Egypt, and performing in the Olympic Cultural Festival as members of Argentina's delegation to the 2008 Beijing Olympic Games.
Their dynamic strength, skill and performance quality have won them many awards for their dancing, such as taking Second Place in Tango Salon category at 2004 Mundial del Tango World Championships and First Place in the 2010 National Championships in Buenos Aires, in Salon and Stage categories by the National Sports Commission.
As principal dancers, they have appeared in various productions, tango shows, and films.