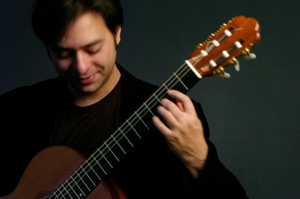 Gregory "Grisha" Nisnevich began his music exploration in St. Petersburg, Russia at an early age. His work with Ilya Permiakov guided and inspired Grisha's musical passion and brought him to the stage. When he relocated to Israel, Grisha continued his education with Joseph Urshalmi at the Jerusalem Rubin Academy of Music and dance. After graduation, he joined the faculty there.
In 1996, Grisha was invited by Maestro Ricardo Iznaola to become the first guitarist to receive a prestigious Artist Diploma in Classical Guitar Performance from the Lamont School of Music at the University of Denver, Colorado. Other accomplishments include:
• Winning the 1998 Classical Guitar Competition in Portland, Oregon.
• Earning first-place in the 1995 International Israeli Radio Competition and in the 1992 Contemporary Music Competition in Israel.
• Being awarded special grants from the American-Israel Cultural Foundation, Chamber Music America, and three times from Colorado Council of the Arts.
Grisha's repertoire as a soloist includes Baroque, Classical, Spanish, South American, Argentine tango and 20th century music. His unique artistic abilities and concert recitals have earned him the honor of being the first performer of works by accomplished contemporary composers Jan Freidlin, Emanuel Val, and Daniel Akiva.
In 2001, Grisha encountered the passionate music of Argentine tango that has become part of his repertoire not only as a musician, but also as a tango dancer and teacher. His primary tango teachers for many years were Julio Balmaceda and Corina de la Rosa. As a tango musician and dancer, Grisha has performed in:
• "The Tango Seduction Show" by Modern Muse Theatre
• Argentine Tango TV show, Buenos Aries 2006
• CITA 2005 show in Buenos Aries with Julio and Corina.
• Master classes, Lectures and Performances in numerous tango festivals, including Tucson, Denver, Boston, Caribbean Tango Festival and Warsaw.
• Performance and lecture at Lamont School of Music and the University of Denver

He also has:
• Formed the Trio"Triunfal" that offers concerts performing Classical, Russian, Baroque and tango music.
• Recorded numerous CD's of his own compositions as well as Russian, Spanish, Baroque, Contemporary, Klezmer music, and a two CD set "Tango Lesson Highlights on Guitar" produced for and in conjunction with Grisha's popular musicality class.