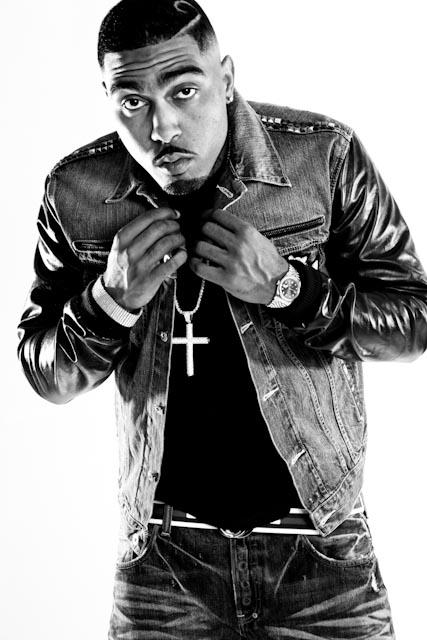 Clyde Carson is more than a rapper. With his hands in several business ventures, including the energy drink Hyphy Juice, and a car collection which includes a Porsche Panamera, Chevy Camaro, supercharged Mercedes Benz S550, and what the rapper calls "a couple old schools."
What began in California's Bay Area with a hoop dream and The Team has since expanded into an independent enterprise in Moe Doe Entertainment for rap artist Clyde Carson. A decade into the business, the MC delivers the biggest record of his storied career in "Slow Down", an every-city street anthem that earth-quaked west coast radio in 2012.
The lead single on Clyde's popular S.T.S.A (Something to Speak About) mixtape, "Slow Down", was the most played song on the Bay Area's KMEL radio and held the number one spot at Power 106 in Los Angeles. With over one million views on YouTube in its first month and nearly two million views to date, the video screens like a Hyphy-crazed episode of Fast and Furious. Crafted as a summer cookout classic, the "Slow Down" remix featured Gucci Mane, E-40, Game and Dom Kennedy.
With the media buzz and national fanfare of Clyde's latest hit single, one might gather the false impression that "Slow Down" was his first single to impact radio. Not true. As a member of The Team, the Moe Doe show runner released "It's Getting' Hot" in 2004, "Just Go" and "Bottles Up" in 2005, and "Hyphy Juice" in 2006. All four tracks charted on urban radio, leading to the national success of The Team's group album World Premiere, which peaked at number 50 on Billboard's Top Indie Albums and number 95 on Billboard's Top Hip-Hop Albums charts, respectively. Moreover, the LA banger "Who's Next", Clyde's highly-anticipated collaboration with legendary producer Dr. Dre, took west coast rap by storm in 2009.
Clyde Carson is more than a rapper. With his hands in several business ventures, including the energy drink Hyphy Juice, and a car collection which includes a Porsche Panamera, Chevy Camaro, supercharged Mercedes Benz S550, and what the rapper calls "a couple old schools", he also plans to add the classic 1991 Ford Mustang GT, an automotive urban legend made world famous after being featured in the Hughes Brothers' hit film "Menace to Society". It's only fitting Clyde is coppin' Kane's ride as both are legends in their fast lanes.
As a youth, Clyde shuttled between Berkeley – a city known for its university Cougars – and neighboring Oakland, known more for its untamed crack epidemic. Raised by a loving, strong and strict single mother who wanted more for her only son, Clyde was involved in sports, focused in school, and active in the areas eclectic concert scene. By the age of 11, however, Oak Town's decaying communities and growing social pathologies began to take their toll. Many of Clyde's friends succumbed to the crime infested, drug riddled street scene. The very home he grew up in, his Grandfather's home in Oakland, had itself been converted into a crack house. Clyde's mother, a hard-working and dedicated single mother, opted to move her son to various cities in the surrounding Bay Area in search of a safe haven.
At the time, this seemed an impossible social challenge with Clyde changing schools and being forced to make new friends and establish new local relationships with each relocation. In the long run, however, this would pay off, as Clyde developed numerous associations – which later would become business contacts and fan bases – at nearly every stop in the Bay Area. From San Jose to East Palo Alto, Richmond to San Francisco, and without question his hometowns of Berkeley and Oakland – there was not a stop he could make and not be known. It was as if his mother had a plan, and that plan would pan out perfectly as it later related to her son's music career. He was not narrowly considered an artist representative of one city, like most. Rather, he was considered a Bay Area artist, and later, a Cali artist. And he would soon be well known on the entire west coast.
In high school, Clyde played varsity basketball in Vallejo and received a scholarship to play at Solano College. After a semester on campus, though, the swingman had already achieved state-wide success as a player on another team – The Team: Clyde Carson opted to channel his efforts into music.
In 2002 the group began to release a series of sports-themed independent albums on Moe Doe, beginning with Beyond The Glory (later re-released as The Preseason), The Negro League, and later World Premiere which received Billboard chart success. The kid with the quick crossover had quickly crossed over to urban radio hits, street anthems, and club shows with stage presence and a distinctly smooth and direct delivery noted for its articulation and seamless ability to speak on top of the beat, as opposed to underneath it. Listen to a Clyde Carson song and feel as though you are riding next to him in a sports car with the music playing while he is talking to you. He was that good. And hailing from an area known for its sucka-free persona, real-recognize-real mindset, and historic shoot 'em up cowboy culture, if Clyde wasn't "that good" they would have told him.
Now with the momentum from "Slow Down" carrying Clyde's S.T.S.A mixtape into the New Year, listeners are quickly selecting their second and third favorites from the project. In LA, the Problem featured "Outta Pocket" has taken off. In the Bay Area, the E-40 featured "All The Way 100" and B Legit featured "Let Me Know" are club favorites. Of course, the any city alcohol anthem "Henney In My Red Cup" has become a social media chat topic with many of Clyde's fans requesting a video for the song. Meanwhile, West Coast club promoters are keeping the rapper's management team busy, requesting to book the artist for shows and appearances at their various venues.
From Hyphy to Hollywood, Clyde Carson has effectively made a name for himself while keeping his Bay Area roots on Hip-Hop's map. His new artist buzz, in what feels like a second-coming, is reminiscent of Atlanta rapper 2 Chainz who emerged as a star after more than a decade on his local Hip-Hop scene. Like the wine-raised in the Napa Valley wine country overlooking his native San Francisco Bay Area, Clyde Carson is a rapper who continues to get better with time.