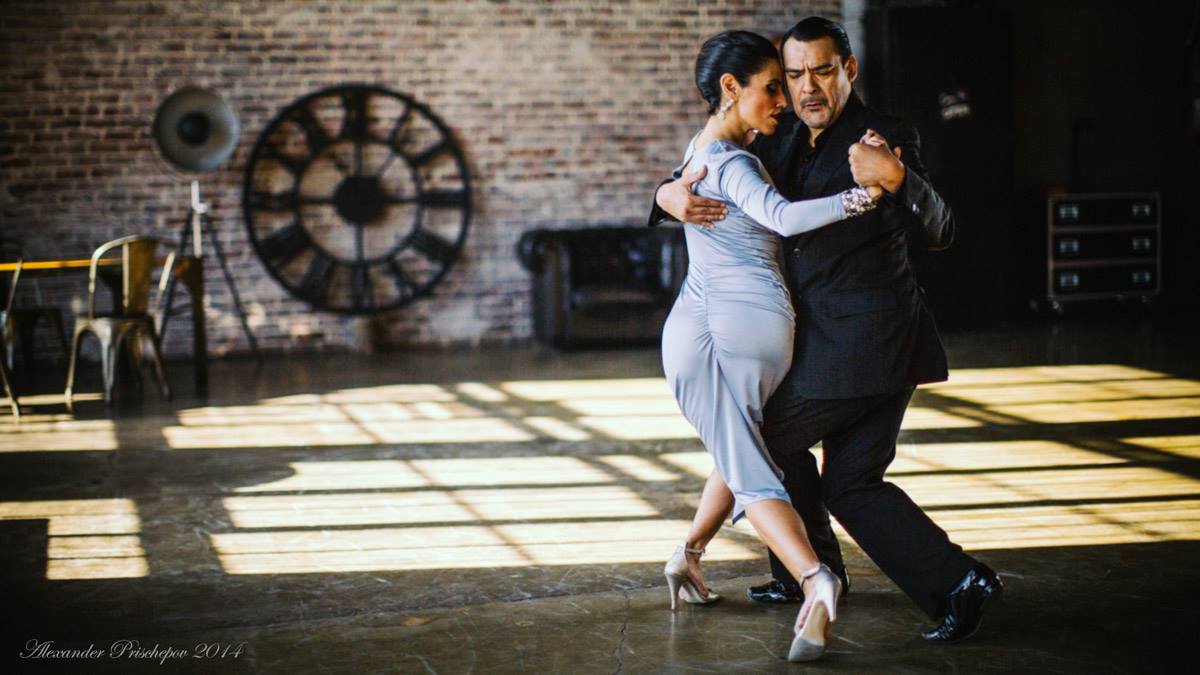 Prior to beginning his career as a tango dancer, Alejandro Aquino finished his studies at the Instituto Superior de Arte del Teatro Colon in Buenos Aires, where he subsequently became a member of the corps de ballet. Among others, he studied under master teachers Alfredo Gurquel and Basil Tupin.
In 1985 he was a featured dancer at Teatro Alvear, together with principal dancers of the Teatro Colon, among them Raul Candal, Alejandro Toto and Lidia Segni.
In 1988 he was a principal dancer in the production "Tango-Tango"of Juan Carlos Copes at the Teatro Lola Membrives in Buenos Aires under the direction of Danel Mañas, together with Roberto Goyeneche and Atilio Stampone . In this same year Alejandro decided to dedicate himself exclusively to tango and studied with legendary tango masters: Miguel Balmaceda, Antonio Todaro and Pepito Avellaneda.
1989 – 1991
Alejandro Aquino was chosen by Maestro Osvaldo Pugliese, composer, orchestra leader and one of the most important figures in the history of tango music, to join the Orquesta Osvaldo Pugliese on tour in America, Asia and Europe. Among these was the historic concert of Osvaldo Pugliese and Astor Piazzolla at the Royal Carre Theatre in Amsterdam, Holland on June 26 1989.
The European tour included the cities of Amsterdam and Ikaalinen. In Asia the Orchestra toured Tokyo, Nagoya, Osaka and Kobe in Japan, and Shanghai and Beijing in China.
In the years to follow, Alejandro was a guest dancer with other prestigious orchestras in Buenos Aires: the Sexteto Tango, the Orquesta de Leopoldo Federido and the Orquesta de Beba Pugliese featuring the poet Horacio Ferrer.
In 1991 Alejandro performed in the famous Aldwych West End Theater in London with the legendary company "Tango Argentino" of Claudio Segovia and Hector Orezzolli.
In 1992 he created his first complete work – "Tangueros" with the sponsorship of the Festival Internacional: "Oriente- Ocidente" of Treno and Roverto in Italy.
In the following 3 years, he presented his show to great public and press acclaim in more than 150 theatres in Italy alone, along with regular performances in important cities across Europe.
1992 – 1996
Alejandro Aquino created the show "Tangueros" in 1992, and was the artistic director, choreographer and scenic director of a dance company bearing the same name from 1992 to 1996. The first production of the show in 1992 featured Sexteto Tango, including masters Emilio Balcarce, Osvaldo Rugiero, Oscar Herrero and Alcides Rossi. Subsequent productions of the show featured the Orquesta Color Tango, directed by Roberto Alvarez.
In 1994 Alejandro Aguino was nominated Corresponsal Academico de la Academia Nacional de Tango, by the poet Horacio Ferrer.
In 1996, he presents his second complete work, the innovative "Milonga Boulevard" inspired in part by Julio Cortazar's "Las puertas del Cielo". "Milonga Boulevard", which debuted in the "Teatro L'Arena del Sole" in Bologna, was subsequently presented throughout Italy and featured Alejandro's master teacher Jose Monteleone, better known as Pepito Avellaneda.
In August 1996 Alejandro breaks with his associate producers of the shows "Tangueros" and "Milonga Boulevard", moving on to new professional and artistic endeavors
1997 – 2011
From 1997 – 2011 Alejandro establishes himself in Italy and dedicates himself to teaching and to transmitting his knowledge of Tango in all of Europe.
In 2003 creates and produces the show "Homenage a Osvlado Pugliese" with the Orgquesta Color Tango led by Roberto Alvarez, and presented personally by Lidia Pugliese. The show subsequently toured in Italy.
2012-2013
November 2012: Alejandro Aquino forms a new partnership with the renowned dancer Natalia Hills to begin the next step in his artistic career. At this time Alejandro and Natalia are embarking on a creative path together and preparing new theatrical presentations.
August 2014, in association with Maestro Victor Lavallén, they presented their first creative work together "El Tango" at "Buenos Aires Festival y Mundial de Tango", in Argentina.